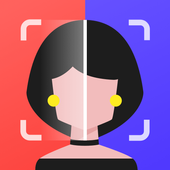 Future Time
Version 1.1.6 for Android 5
Description of Future Time
👵Aged Camera
Open our fun face aging app,Do you want to see your old face, 20 years later, 30 years later, or even 50 years later? Start the journey of time and see your old face.
✋Palm Reading
...
>
Just scan your palms easily and get information about your wealth, love, health and more. We will provide you with fun and fun hand-held life information based on your unique palm print information, so let's start testing!
👶Childhood Camera
Upload your current photo, through the Childhood filter, you can see the lovely yourself in the past! This is very interesting!
👶Baby Prediction
Wonder what the baby of you and your crush would be? Just two photos of both of you can show the look of your cute baby.
🎭Exotic Blend
Just provide your photos, we will show you the different face look in different origins. Like Native American, Ancient Egyptian, Indian.
💃Beauty Scan
Are you the most beautiful person in the world? If you have this doubt, we will tell you, rate your appearance, including your eyes, noses and your face shape.
⚛Horoscope
Your life would be offered based on your Zodiac Sign. Daily, monthly and annually horoscopes are waiting for you. You would know your future in advance and how to turn bad luck into good luck so to have a better future.
No reason for waiting! Download this Face Aging App right now and predict your life!
If you have any questions or advice, please contact us: fururemeapps@gmail.com
Future Time Additional Information
Latest Version:

1.1.6

Publish Date:

2019-08-27

Requirement:

Android 4.1+